HOME > Product > Solar Power(PV) Inverter
Grid Connected Solar Inverter &
Power Converter
The Grid connected solar power inverters of Hephzibah Co., Ltd. are developed with its own system modeling for power circuit, heat dissipation and structural analysis PV simulation and field tests to optimize the system operation for the power conversion and to maximize the power conversion of the solar power energy, and accepted as top quality and reliability inverters in the market.
Veltz
· System Modeling & Simulation
We developed our own system simulation model to optimize the performance of the power conversion system for the product to have the optimized efficiency through the individual parts and overall system analysis.
· Board circuit design & Verification
The system introduces latest 3D EDA software to design the power stack board, SPICE simulation and board design to reduce the development time and trial and error.
Structure
Power Conversion Solution

Conversion rate(%)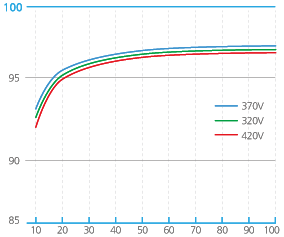 System structure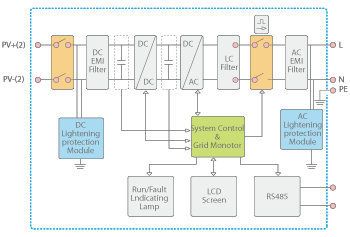 Product
SPC-3000
3KW Solar Power Inverter

• Maximum Efficiency of 97.24%(EURO 96.49%)
• Wide input voltage range(100~600VDC)
• Graphic LCD Display
• Complete smart DSP Control(TI Solution)
• light weight design(15kg)
• various monitoring option
• Quiet operatin lower than 40dB(A)
• Certificate of N&R Energy Facility(PV-GTI-1-0085)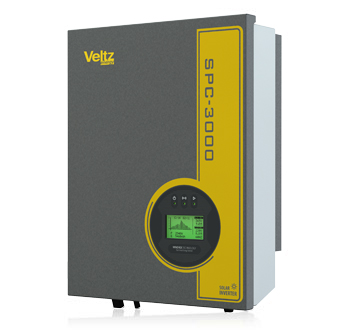 SPC-3000 3KW Solar Power Inverter
제품소개 표
Input
Input volltage range
100~600Vdc
MPPT volltage range
150~500Vdc
Rated volltage
370Vdc
Number of MPP trackers
1
Max. input current
20A
Output
Ratings output capacity
3000W
Max. output current
14A
AC grid volltage range
AC220V
AC grid frequency range
60Hz
THD
Less than 5% in total / 3% individual
AC connection
Single phase
Efficiency
Max. efficiency
97.20%
Euro efficiency
96.49%
MPPT efficiency
99.80%
Protection
Anti-islanding protection
0.5sec below
AC short-circuit protection
Yes
Grid monitoring
Yes
Leakage current monitoring
Yes
General
Dimensions(WxHxD) in mm
345x475x154
Weight
15kg
Operating temperature range
-25℃~60℃
Noise emission
40dB(A)emission
Consumption
Less than 0.2V(night)
Topology
Transformerless
Cooling concept
No fan
Installation level
IP 65
Altitude
< 2000m
Humidity
0~95% RH
Feature
LCD display
Graphic LCD
External interface
RS485/RS232/Bluetooth/Ethernet(option)
Warranty
3yrs/5yrs(option)
Certificate
Certificate of N&R Energy Facility
Certificate number
PV-GTI-1-0085

SPC-3200
3KW Solar Power Inverter

• Maximum Efficiency of 97.24%(EURO 96.49%)
• Wide input voltage range(100~600VDC)
• Graphic LCD Display
• Complete smart DSP Control(TI Solution)
• light weight design(15kg)
• various monitoring option
• Quiet operatin lower than 40dB(A)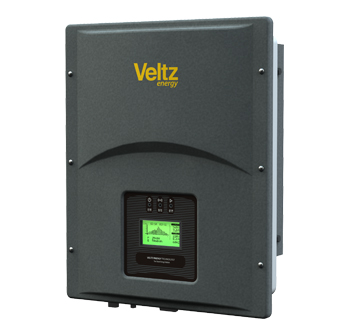 SPC-3200 3KW Solar Power Inverter
제품소개 표
Input
Input volltage range
100~600Vdc
MPPT volltage range
150~500Vdc
Rated volltage
370Vdc
Number of MPP trackers
1
Max. input current
21A
Output
Ratings output capacity
3100W
Max. output current
14.1A
AC grid volltage range
AC220V
AC grid frequency range
60Hz
THD
Less than 5% in total / 3% individual
AC connection
Single phase
Efficiency
Max. efficiency
97.20%
Euro efficiency
96.49%
MPPT efficiency
99.80%
Protection
Anti-islanding protection
0.5sec below
AC short-circuit protection
Yes
Grid monitoring
Yes
Leakage current monitoring
Yes
General
Dimensions(WxHxD) in mm
384x469x164
Weight
15kg
Operating temperature range
-25℃~60℃
Noise emission
40dB(A)emission
Consumption
Less than 0.2V(night)
Topology
Transformerless
Cooling concept
No fan
Installation level
IP 65
Altitude
< 2000m
Humidity
0~95% RH
Feature
LCD display
Graphic LCD
External interface
RS485/RS232/Bluetooth/Ethernet(option)
Warranty
3yrs/5yrs(option)
Certificate
Certificate number

SPC-5000
5kW PV Inverter(Grid connected)

• Maximum Efficiency of 97.8%(EURO 97.0%)
• Wide input voltage range
(Input 90~550VDC, MPPT 125~530VDC)
• IP65
• Dual MPPT input channel
• DC Switch(Option)
• Self-diagnosis function
• Quiet operatin lower than 40dB(A)
• Various monitoring option (RS-485 / 232 / WiFi / Bluetooth / Zigbee)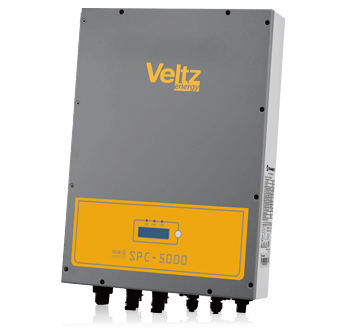 SPC-5000 5kW PV Inverter(Grid connected)
제품소개 표
Input
Input volltage range
90~550Vdc
MPPT volltage range
125~530Vdc
Rated volltage
360Vdc
Number of MPP trackers
2
Max. input current
10A x 10A
Output
Ratings output capacity
5000W
Max. output current
26A
AC grid volltage range
AC220V
AC grid frequency range
60Hz
THD
Less than 5% in total / 3% individual
AC connection
Single phase
Efficiency
Max. efficiency
97.60%
Euro efficiency
96.50%
MPPT efficiency
99.80%
Protectionth>
Anti-islanding protection
0.5sec below
AC short-circuit protection
Yes
Grid monitoring
Yes
Leakage current monitoring
Yes
General
Dimensions(WxHxD) in mm
360x500x150
Weight
24kg
Operating temperature range
-25℃~60℃
Noise emission
40dB(A) below
Consumption
Less than 0.2V(night)
Topology
Transformerless
Cooling concept
No fan
Installation level
IP 65
Altitude
< 2000m
Humidity
0~95% RH
Feature
LCD display
Character LCD
External interface
RS485/RS232/Bluetooth/Ethernet(option)
Warranty
3yrs/5yrs(option)
Certificate
VDE AR-N- 4105,VDE 0126-1-1,AS4777,G83/1,G59/2
Certificate number

SPC-10K
PV Inverter(Grid connected)

• Maximum Efficiency of 98%(EURO 97.5%)
• Wide input voltage range
(Iput 200~900VDC, MPPT 250~800VDC)
• Graphic LCD Display
• IP 65
• Dual MPPT input channel
• DC Switch
• Self-diagnosis function
• Quiet operatin lower than 40dB(A)
• Various monitoring option(RS-485 / 232 / WiFi / Bluetooth / Zigbee)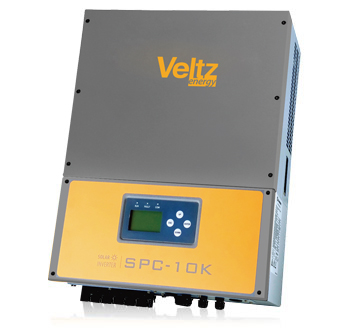 SPC-10K 10kW PV Inverter(Grid connected)
제품소개 표
Input
Input volltage range
200~900Vdc
MPPT volltage range
250~800Vdc
Rated volltage
600Vdc
Number of MPP trackers
2
Max. input current
12A x 12A
Output
Ratings output capacity
10000W
Max. output current
16A
AC grid volltage range
AC380V
AC grid frequency range
60Hz
THD
Less than 5% in total / 3% individual
AC connection
Three phase
Efficiency
Max. efficiency
98.10%
Euro efficiency
97.50%
MPPT efficiency
99.50%
Protection
Anti-islanding protection
Less than 0.5sec
AC short-circuit protection
Yes
Grid monitoring
Yes
Leakage current monitoring
Yes
General
Dimensions(WxHxD) in mm
520x170x700
Weight
41kg
Operating temperature range
-25℃~60℃
Noise emission
Less than 40dB(A)
Consumption
Less than 0.2W(night)
Topology
Transformerless
Cooling concept
Fans
Installation level
IP 65
Altitude
< 2000m
Humidity
0~95% RH
Feature
LCD display/
Character LCD
External interface
RS485/RS232/Bluetooth/Ethernet(option)
Warranty
3yrs/5yrs(option)
Certificate
VDE AR-N- 4105,VDE 0126-1-1,AS4777,G83/1,G59/2
Certificate number

WPC-3000
3KW Solar Power Inverter

• Graphic LCD Display
• Wind turbine Power Curves selection
• light weight design(15kg)
• Reliable high performance DSP(TI)
• Self-diagnosis function
• Various monitoring option(RS485/RS232 /Wi-Fi/Ethernet)
• Quiet operatin lower than 40dB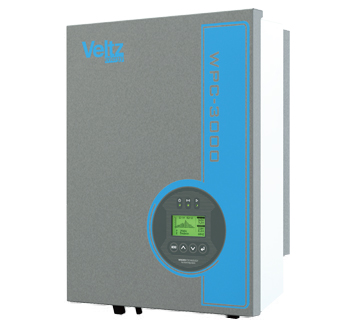 WPC-3000 3KW Solar Power Inverter
제품소개 표
Input
Input volltage range
100~600Vdc
MPPT volltage range
150~500Vdc
Rated volltage
370Vdc
Max. input current
20A
Output
Ratings output capacity
3000W
Max. output current
14A
AC grid volltage range
AC220V
AC grid frequency range
60Hz
THD
Less than 5% in total / 3% individual
AC connection
Single phase
Efficiency
Max. efficiency
96%
Euro efficiency
95%
Protection
Anti-islanding protection
0.5sec below
AC short-circuit protection
Yes
Grid monitoring
Yes
Leakage current monitoring
Yes
General
Dimensions(WxHxD) in mm
345x475x154
Weight
15kg
Operating temperature range
-25℃~60℃
Noise emission
40dB(A)emission
Consumption
Less than 0.2V(night)
Topology
Transformerless
Cooling concept
No fan
Installation level
IP 65
Altitude
< 2000m
Humidity
0~95% RH
Feature
LCD display
Graphic LCD
External interface
RS485/RS232/Bluetooth/Ethernet(option)
Warranty
3yrs/5yrs(option)
Certificate
Certificate number

SPC-300
300W Micro Solar Power Inverter

• Wide input voltage range(10~60VDC)
• makes the output maximum 25% higher than central inverter.
• Maximum Efficiency of conversion more than 96%
• Wide input voltage range(10~60VDC)
• Self-diagnosis function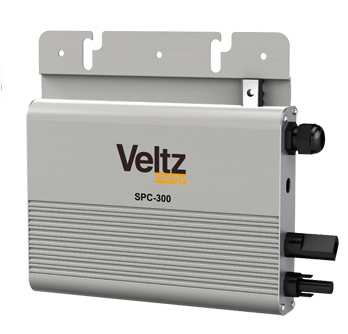 SPC-300 300W Micro Solar Power Inverter
제품소개 표
Input
Input volltage range
10~60Vdc
MPPT volltage range
25~60Vdc
Rated volltage
40Vdc
Max. input current
11A
Output
Ratings output capacity
300W
Max. output current
1.36A
AC grid volltage range
AC220V
AC grid frequency range
60Hz
THD
Less than 0.05
AC connection
Single phase
Efficiency
Max. efficiency
96%
Euro efficiency
95%
Protection
Anti-islanding protection
0.5sec below
AC short-circuit protection
Yes
Grid monitoring
Yes
Leakage current monitoring
Yes
General
Dimensions(WxHxD) in mm
248x211x38
Operating temperature range
-40℃~60℃
Noise emission
30dB(A)emission
Consumption
Less than 0.1V(night)
Topology
Transformerless
Cooling concept
No fan
Installation level
IP 65
Altitude
< 2000m
Humidity
0~95% RH

SCH-10A/20A
Solar Street Light Controller

• Use Solar Street Light
• 12hour timer
• Protect Overcharge/Overdischarge
• Sunrise/Sunset Sensing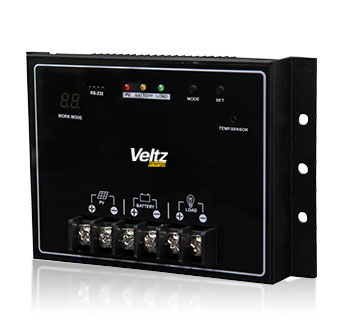 SCH-10A/20A Solar Street Light Controller
제품소개 표
Item
SCH-10A
SCH-20A
System Voltage
12V
24V
Max. input volltage
30V
50V
Rated Input Current
20A
20A
PV Short Circuit Rating
25A
25A
Rated Load
20A
20A
자체소모전력
8mV
8mV
Ambient Temp Range
-40 to 60˚C
-40 to 60˚C
Rated Current
20A
20A
Size(W X D X H)
170mm X 24mm X 122mm
Weight
370g
Safety Sensor
Overcharge protection, low voltage block
Control Item
Auto/manual Operation, Sunrise/Sunset Sensing, Temperature Control

SJB-212L(series connection)/220L(parallel connection)
3kW Solar joint box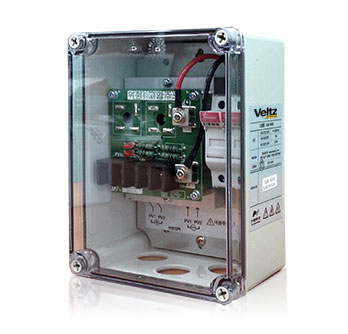 SJB-212L(series connection)/220L(parallel connection)
제품소개 표
Item
SJB-212
SJB-220
Input
Input Volltage Range
H:0~1000Vdc L:0~600Vdc
Max. Input Current
12A
20A
Rated Input Current
20A
20A
Structure
Installation level
IP:67
Cooling concept
No fan
Size
150 X 200 X 100
Weight
1.2Kg
Temperature
Operating Temperature
-20 ~ +50˚C
Storage Temperature
-20 ~ +60˚C
Operating Humidity
< 95% RH ( No Condensation )

WPC-1500
1.5kW Wind Inverter(Grid connected)

• Wind turbine Power Curves selection
• Monitoring Option(RS232)
• LCD Display
• Protect Overcharge/Overdischarge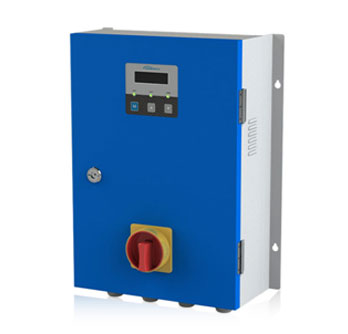 WPC-1500 1.5kW Wind Inverter(Grid connected)
제품소개 표

| Item | Specification |
| --- | --- |
| Wind Max Input Voltage | 100V |
| Control Type | MPPT/PWM |
| Wind Max Input Electric Power | 1500W |
| Max. Output Volltage | 1500W |
| Rated Output Current | 62.5A/td> |
| Max. Output Current | 70A |
| Rated Output Voltage | 24, 48V |
| Temperature | -20 ~ 50˚C |
| Overcharge Control Voltage | 28.8V |
| Low Voltage Control Limit | 22V |
| Size(W X D X H) | 377mm X 152mm X 500mm |

WM-3000
Solar Power Generation Monitoring device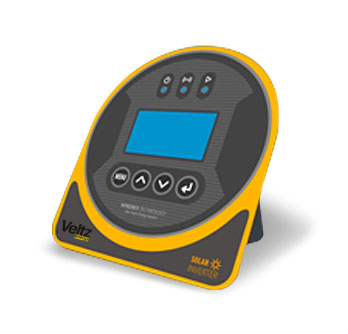 WM-3000 Solar Power Generation Monitoring device
제품소개 표
Input
Input Voltage Range
5V [Vdc]
Current consumption
Less than 100mA
Structure
External communication
RS-485
Weight
630g
Size
Wall-mount : 170(W) X 180(H) X 30(D)Stand : 170(W) X 155(H) X 130(D)
Display mode
LCD, LED
Display Data
generation graph, The current power supply, The cumulative output, Power condition
Communication distance
About 1.2km
Use environments
Operating Temperature
-20 ~ +60˚C
Storage Temperature
-20 ~ +60˚C
Operating Humidity
< 95% RH ( No Condensation )